FOOD SAFETY SOFTWARE
Safety HUD
Safety HUD assists global food operators in conducting risk assessments on their products and raw materials, meeting international standards like BRC and IFS. Created by Mérieux NutriSciences, this solution offers comprehensive monitoring of daily alerts for food fraud and safety, providing valuable insights and analytical recommendations for informed decision-making.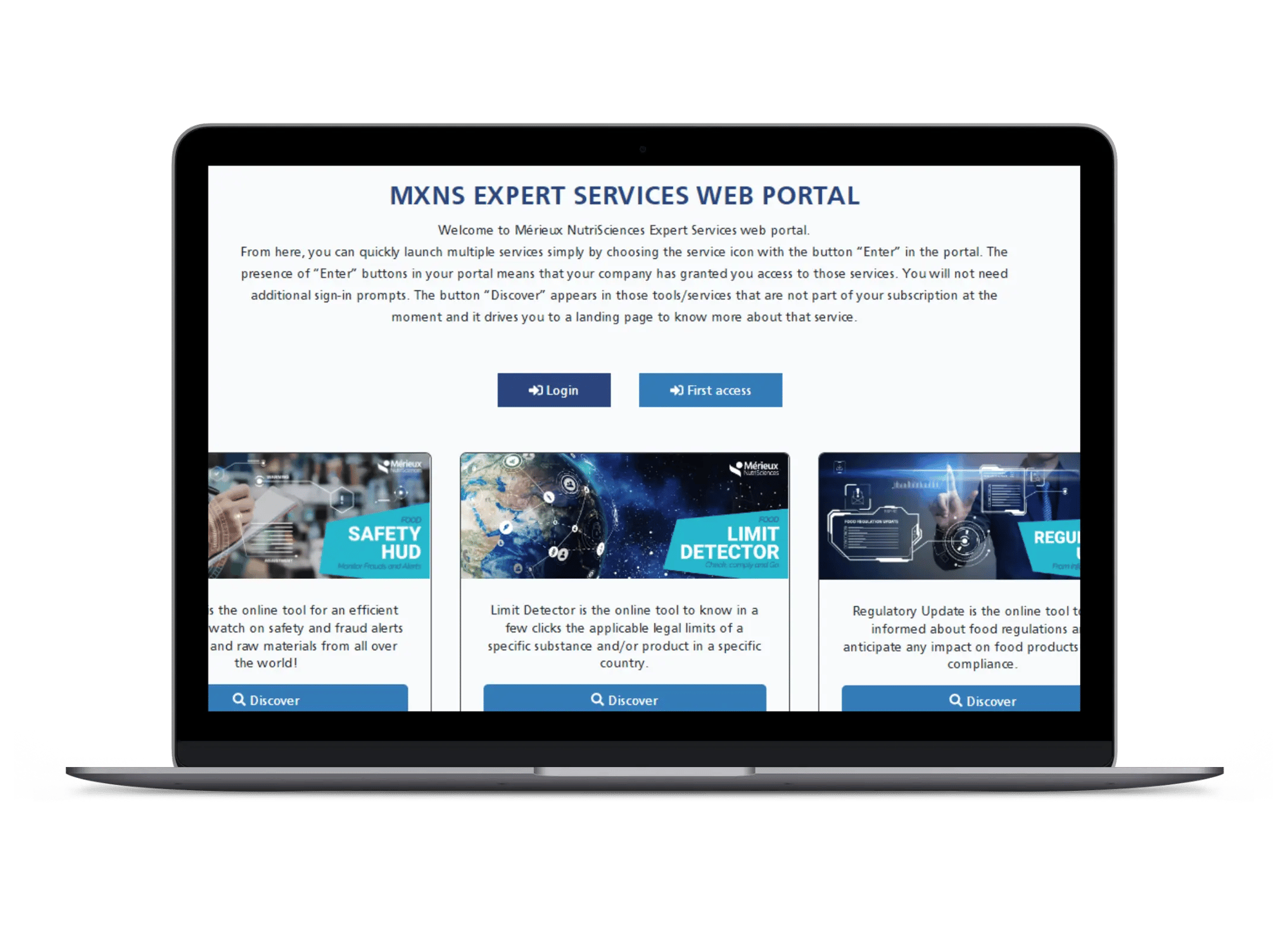 Access to precise information in real-time.
List of all alerts

Each alert is fully described in terms of product, ingredient, risk, source, notifying country, country of origin, and countries affected.

Link to the source document
Filter and sort alerts according to your needs.
Media sources in or out

Search by keywords or filter by parameters

Download alerts and reports in Excel and PDF for easier internal use
Comprehensive understanding of food issues and their dynamics
Search for specific statistics by filters (products, issues, countries, source, time range)

Compare time ranges to see trends

Display exportable mappings and diagrams

Understand what is behind the numbers: pass from statistics to a related list of alerts.

Zoom in on specific countries, products, or issues with simple clicks.
Global Monitoring: Keeping You Informed Since 2018
Since May 1, 2018, we have diligently monitored 100+ agencies and media sources worldwide. With our Safety HUD, you can be confident that no significant event impacting your food categories will be missed.
Your Daily Companion
Stay informed and never miss a beat with exclusive news updates curated for you. Explore the latest developments in the topics that matter most to you and stay ahead of the game. In addition, receive real-time alerts for any potential food fraud or safety concerns, ensuring that you and your loved ones are always protected. Trust our reliable system to keep you informed and empowered in making informed choices.
Personalized for You
Maximize your efficiency and streamline your search by focusing solely on the required essential information. With our expertly crafted content, you can save valuable time and effortlessly pinpoint the exact details you need. Embrace the power of targeted information at your fingertips and elevate your productivity to unprecedented levels.
Protect Your Brands
Identify the risks associated with your products and navigate the most appropriate path forward. By recognizing the potential challenges and uncertainties that your products may face, you can proactively devise effective strategies to mitigate these risks and ensure success. Embrace informed decision-making and take steps to safeguard your products from potential pitfalls. Trust in your ability to identify and overcome obstacles as you steer your products towards triumph.