Chemistry
Testing
Our chemistry food testing services are available to support your product development, quality control, and safety analysis needs. Get our brochure to learn how we can assist you!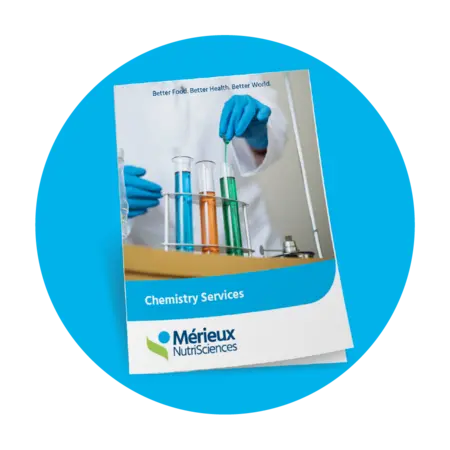 Elevate Your Quality and Safety Programs
Our ISO-accredited laboratories provide reliable monitoring solutions to maintain high quality and safety standards. As a trusted partner of the AOAC, you can count on our expertise and resources for continued success. Chemistry Testing Portfolio

A range of cutting-edge instrumentation and technologies powers our testing portfolio in the food and beverage industry. From LC-MS/MS and GC-MS/MS to real-time PCR and HPLC, we harness the power of advanced tools to deliver expert testing for all types of products.
Additives
Trust Mérieux NutriSciences for additive testing. We provide prompt and precise results to ensure product safety and compliance. Count on us to support you in meeting regulatory requirements and achieving your goals.
Allergens and Contaminants
Our chemistry testing services and experts can identify allergens and contaminants in your products to provide precise results that can help you comply with regulatory standards and safeguard your brand's reputation. You can rely on our dependable chemistry testing services.
Nutritional Testing
Our nutritional testing services provide precise and reliable information on macronutrients, micronutrients, fiber, sugars, and more. We prioritize compliance and consumer satisfaction, strictly following testing procedures for accurate outcomes. With our assistance, you can create healthy products that meet nutritional standards and contribute to a healthier future.
Packaging Testing
At Mérieux NutriSciences, we conduct comprehensive chemistry packaging testing to ensure product safety and compliance with standards. Our advanced lab facilities and experienced scientists evaluate materials, adhesives, coatings, and inks for potential risks of chemical contamination. By partnering with us, you can trust that your products are packaged with the highest quality and safety standards.
Quality and Authenticity
We ensure product quality by detecting impurities, contaminants, and fraud as our laboratories measure the use of food additives, GMOs, and pesticides. We meet regulatory standards, build brand reputation, and promote consumer trust. Count on us for precise results and supply chain integrity.
FAST LEAD TIMES
Accelerate Product Quality Assurance
Our chemistry testing laboratories supply fast turnaround times and expert data interpretation to help ensure product quality. Whether you need quick results or are performing routine testing, our rush services and standard turnaround times are some of the best in the industry.
Chemistry Testing Resources

Sample Pick-Up
Arrange convenient and secure pickup of your samples through our fleet of couriers.

Sample Supplies
Supplies are available for sampling, packing, storing, and shipping your samples.

MyMXNS Portal
Manage your daily food safety system with our easy-to-use, reliable customer portal.