Food Sensory
Mérieux NutriSciences' food sensory services empower you to assess the excellence of your food and beverage products, uncover fresh consumer perspectives, conduct thorough product comparisons against competitors, and foster innovative product concepts, all in a centralized hub. View our sensory infographic to learn more!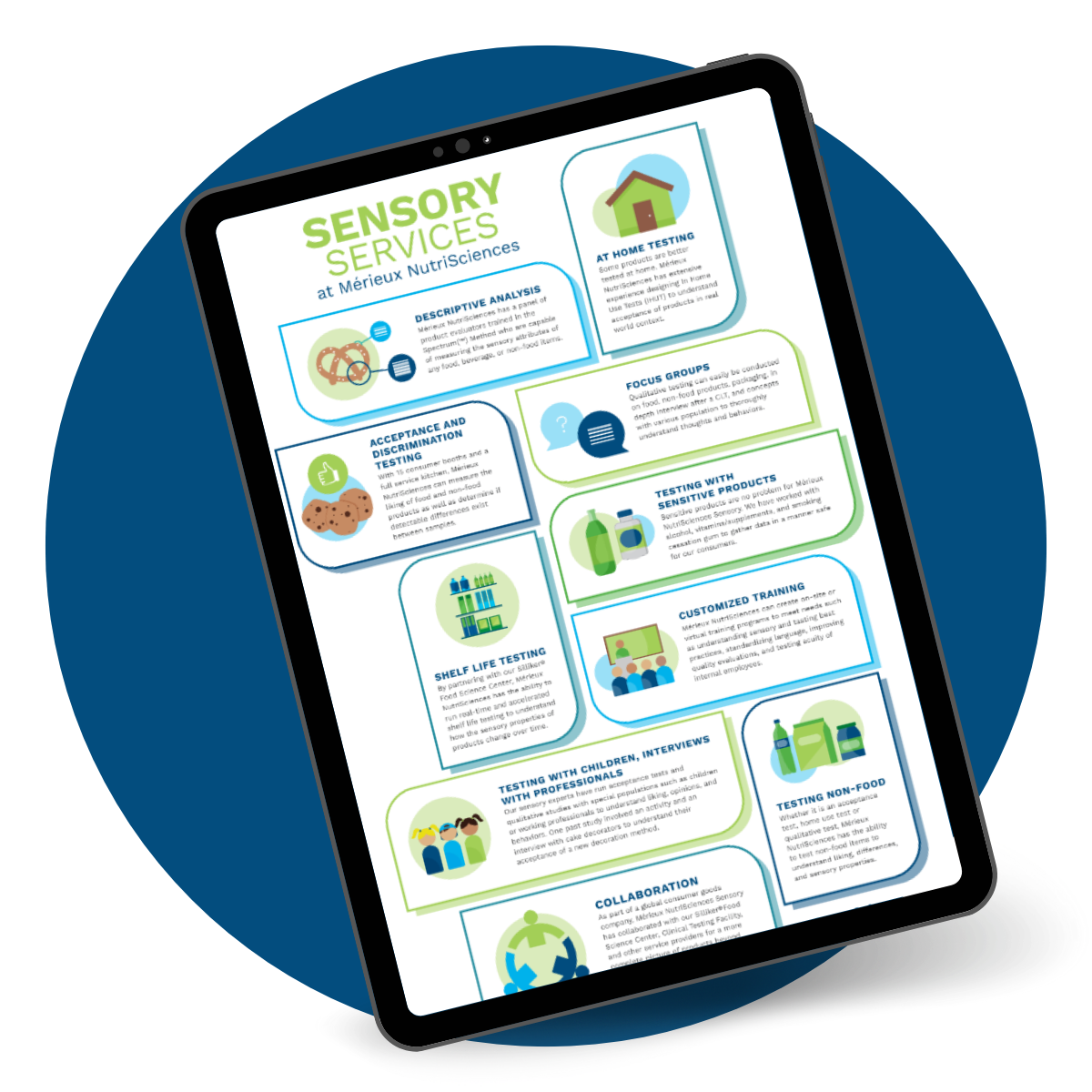 Exploring Market Potential Through Sensory Insights
We have developed a straightforward process that harnesses the strength of our extensive portfolio of sensory and consumer tools and methodologies. This enables us to assist you in uncovering lucrative opportunities in unexplored markets, optimizing the profitability of your products and actions, and fostering a lasting connection between your consumers and your brand. Our advanced research dives deep into consumer understanding, giving you the power to shape your marketing strategy by precisely measuring and highlighting the sensory elements of your product. We offer the following services:
Descriptive Analysis
We employ a team of skilled experts and advanced techniques to examine product attributes and sensory profiles thoroughly. Our services empower you to fine-tune your products for optimal sensory appeal and consumer satisfaction using descriptive analysis.
Physical Testing and Specification Creation
We specialize in enhancing the sensory elements of your products. Our team of experts utilizes cutting-edge techniques to carefully analyze and determine the sensory attributes, enabling you to create exceptional products that exceed expectations regarding taste, texture, and overall sensory experience.
Our Expert Network Empowers You To.....
Work with your research and development (R&D) and marketing teams to develop products that meet consumer expectations.
Help you determine how ingredient and process changes can affect the characteristics of your product.
Analyze senses, enhance development, create unforgettable experiences. Trust our experts to engage your audience.
Identify key sensory attributes that promote consumer acceptance and quality assurance validation.